SAPPHIRE Vapor-X ATI Radeon HD 5870 1GB 256-bit GDDR5 PCI Express 2.0 x16 100281VX-2SR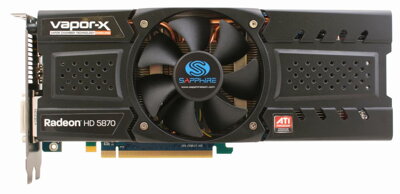 Hodnotenie produktu: 4/5 (2x)
Vaše hodnotenie:
SAPPHIRE Vapor-X ATI Radeon HD 5870 1GB 256-bit GDDR5 PCI Express 2.0 x16 100281VX-2SR
48 € s DPH
40 €
48 € s DPH Zľava 0 €
Dostupnosť: Vypredané
Výrobca: Sapphire
Specification
Output
2 x Dual-Link DVI

1 x HDMI

1 x DisplayPort
GPU
850 MHz Core Clock

40 nm Chip

1600 x Stream Processors
Memory
1024 MB Size

265 -bit GDDR5

4800 MHz Effective


Specification
Output
2 x Dual-Link DVI

1 x HDMI

1 x DisplayPort
GPU
850 MHz Core Clock

40 nm Chip

1600 x Stream Processors
Memory
1024 MB Size

265 -bit GDDR5

4800 MHz Effective
Software
Driver CD
All specifications and accessories are subject to change without notice. Please check with your supplier for exact offers. Products may not be available in all markets.
ATI Eyefinity
ATI Eyefinity technology maximises your field of view across up to three displays, fully engaging your peripheral vision. For gamers this puts you right IN the game and for other applications it helps to increase productivity by maximising your visual workspace so that you can see more windows simultaneously. ATI Eyefinity technology is also ideal for multimedia applications as it allows you to keep several palettes or panels open over a larger workspace whist you edit your images or videos.
Eyefinity Demo


*To support 3 displays, one of the monitors has to support DisplayPort
Vapor-X Technology
SAPPHIREs innovative Vapor-X cooling technology allows products to run not only cooler but also much quieter. A Vapor-X product means a virtually silent gaming experience and more headroom to explore performance tweaking !

40nm Process Technology
Cutting edge manufacturing process allows for efficient, high performance parts which use less power than their predecessors.
ATI Stream Technology
Accelerate the most demanding applications with ATI Stream technology and do more with your PC. ATI Stream Technology allows you to use the teraflops of compute power locked up in your graphics processer on tasks other than traditional graphics such as video encoding, at which the graphics processor is many, many times faster than using the CPU alone.
ATI Avivo HD (DVD/HD-DVD/Blue-ray Playback)
Watch the hottest Blu-ray movies or other HD content at full 1080p display resolution and beyond and enjoy a more feature rich experience with enhanced Unified Video Decoder(UVD)
ATI CrossFireX Multi-GPU Technology
Triple or Quadruple with gaming power withATI CrossFireX Multi-GPU Technology.ATI CrossFireX technology supports up to four graphics cards to be used in a single system.
PCI-Express 2.0
The latest PCI-Express 2.0 specification doubles data throughput from 2.5Gbps to 5Gbps allowing you to exploit the full performance potential of your graphics card.
Dual-Link DVI
Equipped with the most popular Dual Link DVI (Digital Visual Interface), this card is able to display ultra high resolutions of up to 2560 x 1600 at 60Hz.
HDMI
Turn your PC into a home entertainment centre with HDMI. Simply connect the graphics card to an LCD TV with an HDMI input and you will be able to enjoy watching HD videos with audio in the living room.
DisplayPort
Enjoy the benefits of the latest generation display interface, DisplayPort. With the ultra high HD resolution of 2560 x 1600 the graphics card ensures that you are able to support the latest generation of LCD monitors.
OpenGL® 3.1 and 3.2
Supports the latest OpenGL API (Application Programming Interface) to accelerate performance of applications outside of DirectX®, i.e. Adobe Autodesk 2D/3D graphic design.



âºOpenGL 3.2 Driver support scheduled for release in 2010
Shader Model 5.0
Supports the latest Shader Model 5.0 feature set including VTF (Vertex Texture Fetch) which is a key feature used extensively in many of the games that ship today. Without support for this feature the game will fall back to a lesser shader path resulting in the loss of cool, lifelike effects made possible by Shader Model 5.0
ATI Catalyst Control Center
The ATI Catalyst Control Center software application gives you complete control over the performance and visual quality of your SAPPHIRE ATI Radeon⢠based graphics card allowing for the best experience on your PC.
Accelerated Video Transcoding
Massively parallel architecture and support for common shader transcoding instructions accelerates video encoding / transcoding way beyond what was possible with the CPU only.
(Requires application support for ATI Stream technology and Digital rights management restrictions may apply)
Dolby® TrueHD and DTSHD Master Audio Support
Support for copy protected, high bandwidth, 7.1 channel surround sound over HDMI. Get a fully immersive, high definition audio experience with the latest Blu-ray movies. (Requires a DVI to HDMI dongle on some models, an HD capable monitor and a Blu-ray drive)
2nd Generation TeraScale Engine
Supports more than 4 teraFLOPS of compute power, providing more performance than any other graphics card available. (As of October 9th, 2009, the ATI Radeon⢠HD5970 scored in excess of X 10,000 in 3DMark Vantage V1.01, the highest single graphics card score achieved to date.)
Anti-aliasing features
Supports advanced AA (Anti-aliasing) features to maximise your enjoyment of high definition gaming.
Multi-sample anti-aliasing (2, 4 or 8 samples per pixel)
Up to 24x Custom Filter Anti-Aliasing (CFAA) for superior quality
Adaptive super-sampling and multi-sampling
Gamma correct
Super AA (ATI CrossFireX configurations only)
All anti-aliasing features compatible with HDR rendering
Physics processing support
Accelerates the performance of Fluid Dynamics, Cloth Simulation, Soft or Rigid Body Dynamics, Universal Collision Detection, Hair Simulation and Finite Element Analysis for the most lifelike gaming experience.
ATI PowerPlay
Dynamically manage power efficiency and take control of your performance with AMD revolutionary ATI PowerPlay TM power management technology delivering high performance features when needed and conserving power when the demand on the graphics processor is low. This seemless technology dramatically reduces the overall power consumption allowing for break-through energy efficiency.
Windows® 7 support
WHQL (Windows Hardware Quality Labs) Certified drivers and logos are available for all SAPPHIRE HD2000, HD3000, HD4000 and HD5000 series cards ensuring compatibility and reliability with Microsoft Windows 7.
PCI Express® based PC is required with one X16 lane graphics slot available on the motherboard.
500 Watt Power Supply is required.
600 Watt Power Supply is recommended for CrossFireX System.
2 X 75Watt 6-pin PCI Express power connector is required.
4 X 75 Watt 6-pin PCI Express power connector is required for CrossFireX system.
Certified power supplies are recommended. Refer to http://ati.amd.com/certifiedPSU for a list of Certified products.
1024 MB Minimum of system memory.
Installation software requires CD-ROM drive.
DVD playback requires DVD drive.
Blu-ray / HD DVD playback requires Blu-ray / HD DVD drive.
For an ATI CrossFireX system, a second same ATI Radeon graphics card, an ATI CrossFireX Ready motherboard and one ATI CrossFireX Bridge Interconnect cable per graphics card (optional) are required.
To support 3 displays, one of the monitors has to support DisplayPort.