HP StorageWorks 4/8 base SAN switch A7984A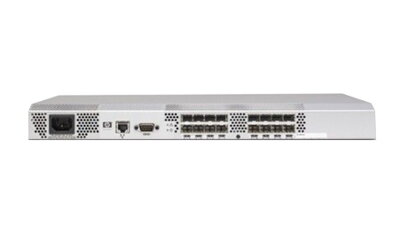 Hodnotenie produktu: Zatiaľ bez hodnotenia. Buďte prvý!
Vaše hodnotenie:
HP StorageWorks 4/8 base SAN switch A7984A
60 € s DPH
50 €
60 € s DPH Zľava 0 €
Dostupnosť: Skladom
Summary
The HP StorageWorks 4/8 Base SAN Switch offer 4 GB affordable connectivity for entry-level storage area networks (SAN), and the ability to grow to a core-to-edge infrastructure.
High-speed, intelligent B-series storage networks enable small departments and global organizations to access and share data in a consolidated, manageable, and a scalable manner.
Delivers scalability, performance, and broad interoperability required for critical data and applications designed to meet a range of storage networking needs from small and midsized businesses to the largest corporate enterprises.
Related products
Key Features
High performance, availability and scalability: Superior ROI and investment protection
4Gb/s performance: Provides ability to configure a more efficient SAN configuration by reducing total number of ISLs. You will require ½ the number of 2 Gb/s ISLs
Ports on demand, pay as you grow: ability to add more ports when needed. Pay for connectivity you use
Faster backup: reduces LAN traffic and delivers a more reliable backup and restore solution
Advanced non-blocking architecture with intelligent routing and faster fabric services to provide a high performance storage network: high performance interconnect to handle the most demanding applications
Multi-protocol and LUN-level Zoning features. Full support for optional Secure Fabric OS: Ability to create a secure Infrastructure
Multi-switch fabric tools for easy configuration and monitoring convenient power pack options: flexible management tools to manage large SANs
ISL Trunking and Advanced Performance Monitoring to prevent fabric bottlenecks: ability to create 32 port trunks to efficiently utilise inter switch links
Simple Web tools software: removes some of the complexity when installing and managing a SAN
Fully compatible with and sharing a common code base with existing B-series switches: investment protection
Technical Features
Superior Scalability: Eight 4Gb/s ports expandable to 12 or 16 ports with the purchase of optional 4 port upgrade license; "pay as you grow" scalability from single-switch to full fabric connectivity
Reduced Total Cost of Ownership for SAN Infrastructure: Enables storage consolidation, simplified management of data center SAN environment
Broadest range of compatibility with SAN products: Multi-vendor server and storage environment; Widest range of HP SAN solutions; Backward compatible with previously installed 1Gb, 2Gb and 4Gb SAN Switches; Interoperability with the more than 2.0 MILLION port HP SAN Switch installed base
HP Power Pack Software Bundle (Optional) - highest supported modular functionality: Trunking - highest throughput between switches; Proactive threshold monitor (Fabric Watch); Advanced Performance Monitor; Extended Fabric
Broadest Range of HP Packaged SAN Services: Mission critical SAN Services SAN-ES; Assessment and installation services for security
Flexible storage connectivity: The only SAN solutions providing the complete HP SAN Switch functionality from Embedded to Enterprise. The HP SAN Switch value line products allows the capability to apply the complete SAN Switch functionality to an affordable entry level SAN deployment and then to grow that deployment to the largest SAN fabric solutions supported by HP
Technical Specifications
Connectivity
Classes of service
Class 2, Class 3, Class F (inter-switch frames)
Fibre channel protocols
FC-AL Rev. 4.5; FC-GS-2 Rev 5.3 FC-PH Rev 4.3; FC-PLDA Rev 2.1; FC-VI Rev 1.5; FC-AL-2 Rev 7.0; FC-FG Rev 3.5 FC-PH-2 Rev 7.4; FC-SW Rev 3.3; IPFC RFC 2625; FC-FLA Rev 2.7; FC-FH Rev 1.7; FC-PH-3 Rev 9.4
Media handling
Media types supported
Small Form-Factor Pluggable (SFP)
Networking
Management features
10/100 Ethernet (RJ-45), serial port
Full duplex
Yes
Protocol supported
Fibre Channel
Performance
Maximum port bandwidth
4 Gbit/sec
Ports
External I/O ports
8 active with optional license to activate 16 universal ports; FL_Port, F_Port, and E_Port; self-discovery based on switch type (U_Port)
Power
Power requirements
90 to 264 VAC, 47 to 63 Hz
Software
Software included
Included with switch: Advanced Zoning and Web Tools
System
Chassis type
1U
Diagnostics
POST and embedded online/offline diagnostics
Manageability features
Telnet; RADIUS, SNMP (FE MIB, FC Management MIB); WebTools; Fabric Watch Optional; Fabric Access layer
Upgradability
4 port upgrades. Ports on demand. San scaling upgrade from zero e-ports to full fabric
1.
Superior Scalability: Eight 4Gb/s ports expandable to 12 or 16 ports with the purchase of optional 4 port upgrade license; "pay as you grow" scalability from single-switch to full fabric connectivity
Reduced Total Cost of Ownership for SAN Infrastructure: Enables storage consolidation, simplified management of data center SAN environment
Broadest range of compatibility with SAN products: Multi-vendor server and storage environment; Widest range of HP SAN solutions; Backward compatible with previously installed 1Gb, 2Gb and 4Gb SAN Switches; Interoperability with the more than 2.0 MILLION port HP SAN Switch installed base
HP Power Pack Software Bundle (Optional) - highest supported modular functionality: Trunking - highest throughput between switches; Proactive threshold monitor (Fabric Watch); Advanced Performance Monitor; Extended Fabric
Broadest Range of HP Packaged SAN Services: Mission critical SAN Services SAN-ES; Assessment and installation services for security
Flexible storage connectivity: The only SAN solutions providing the complete HP SAN Switch functionality from Embedded to Enterprise. The HP SAN Switch value line products allows the capability to apply the complete SAN Switch functionality to an affordable entry level SAN deployment and then to grow that deployment to the largest SAN fabric solutions supported by HP
2.
Superior Scalability: Eight 4Gb/s ports expandable to 12 or 16 ports with the purchase of optional 4 port upgrade license; "pay as you grow" scalability from single-switch to full fabric connectivity
Reduced Total Cost of Ownership for SAN Infrastructure: Enables storage consolidation, simplified management of data center SAN environment
Broadest range of compatibility with SAN products: Multi-vendor server and storage environment; Widest range of HP SAN solutions; Backward compatible with previously installed 1Gb, 2Gb and 4Gb SAN Switches; Interoperability with the more than 2.0 MILLION port HP SAN Switch installed base
HP Power Pack Software Bundle (Optional) - highest supported modular functionality: Trunking - highest throughput between switches; Proactive threshold monitor (Fabric Watch); Advanced Performance Monitor; Extended Fabric
Broadest Range of HP Packaged SAN Services: Mission critical SAN Services SAN-ES; Assessment and installation services for security
Flexible storage connectivity: The only SAN solutions providing the complete HP SAN Switch functionality from Embedded to Enterprise. The HP SAN Switch value line products allows the capability to apply the complete SAN Switch functionality to an affordable entry level SAN deployment and then to grow that deployment to the largest SAN fabric solutions supported by HP
3.
Superior Scalability: Eight 4Gb/s ports expandable to 12 or 16 ports with the purchase of optional 4 port upgrade license; "pay as you grow" scalability from single-switch to full fabric connectivity
Reduced Total Cost of Ownership for SAN Infrastructure: Enables storage consolidation, simplified management of data center SAN environment
Broadest range of compatibility with SAN products: Multi-vendor server and storage environment; Widest range of HP SAN solutions; Backward compatible with previously installed 1Gb, 2Gb and 4Gb SAN Switches; Interoperability with the more than 2.0 MILLION port HP SAN Switch installed base
HP Power Pack Software Bundle (Optional) - highest supported modular functionality: Trunking - highest throughput between switches; Proactive threshold monitor (Fabric Watch); Advanced Performance Monitor; Extended Fabric
Broadest Range of HP Packaged SAN Services: Mission critical SAN Services SAN-ES; Assessment and installation services for security
Flexible storage connectivity: The only SAN solutions providing the complete HP SAN Switch functionality from Embedded to Enterprise. The HP SAN Switch value line products allows the capability to apply the complete SAN Switch functionality to an affordable entry level SAN deployment and then to grow that deployment to the largest SAN fabric solutions supported by HP
4.
Superior Scalability: Eight 4Gb/s ports expandable to 12 or 16 ports with the purchase of optional 4 port upgrade license; "pay as you grow" scalability from single-switch to full fabric connectivity
Reduced Total Cost of Ownership for SAN Infrastructure: Enables storage consolidation, simplified management of data center SAN environment
Broadest range of compatibility with SAN products: Multi-vendor server and storage environment; Widest range of HP SAN solutions; Backward compatible with previously installed 1Gb, 2Gb and 4Gb SAN Switches; Interoperability with the more than 2.0 MILLION port HP SAN Switch installed base
HP Power Pack Software Bundle (Optional) - highest supported modular functionality: Trunking - highest throughput between switches; Proactive threshold monitor (Fabric Watch); Advanced Performance Monitor; Extended Fabric
Broadest Range of HP Packaged SAN Services: Mission critical SAN Services SAN-ES; Assessment and installation services for security
Flexible storage connectivity: The only SAN solutions providing the complete HP SAN Switch functionality from Embedded to Enterprise. The HP SAN Switch value line products allows the capability to apply the complete SAN Switch functionality to an affordable entry level SAN deployment and then to grow that deployment to the largest SAN fabric solutions supported by HP
5.
Superior Scalability: Eight 4Gb/s ports expandable to 12 or 16 ports with the purchase of optional 4 port upgrade license; "pay as you grow" scalability from single-switch to full fabric connectivity
Reduced Total Cost of Ownership for SAN Infrastructure: Enables storage consolidation, simplified management of data center SAN environment
Broadest range of compatibility with SAN products: Multi-vendor server and storage environment; Widest range of HP SAN solutions; Backward compatible with previously installed 1Gb, 2Gb and 4Gb SAN Switches; Interoperability with the more than 2.0 MILLION port HP SAN Switch installed base
HP Power Pack Software Bundle (Optional) - highest supported modular functionality: Trunking - highest throughput between switches; Proactive threshold monitor (Fabric Watch); Advanced Performance Monitor; Extended Fabric
Broadest Range of HP Packaged SAN Services: Mission critical SAN Services SAN-ES; Assessment and installation services for security
Flexible storage connectivity: The only SAN solutions providing the complete HP SAN Switch functionality from Embedded to Enterprise. The HP SAN Switch value line products allows the capability to apply the complete SAN Switch functionality to an affordable entry level SAN deployment and then to grow that deployment to the largest SAN fabric solutions supported by HP
6.
Superior Scalability: Eight 4Gb/s ports expandable to 12 or 16 ports with the purchase of optional 4 port upgrade license; "pay as you grow" scalability from single-switch to full fabric connectivity
Reduced Total Cost of Ownership for SAN Infrastructure: Enables storage consolidation, simplified management of data center SAN environment
Broadest range of compatibility with SAN products: Multi-vendor server and storage environment; Widest range of HP SAN solutions; Backward compatible with previously installed 1Gb, 2Gb and 4Gb SAN Switches; Interoperability with the more than 2.0 MILLION port HP SAN Switch installed base
HP Power Pack Software Bundle (Optional) - highest supported modular functionality: Trunking - highest throughput between switches; Proactive threshold monitor (Fabric Watch); Advanced Performance Monitor; Extended Fabric
Broadest Range of HP Packaged SAN Services: Mission critical SAN Services SAN-ES; Assessment and installation services for security
Flexible storage connectivity: The only SAN solutions providing the complete HP SAN Switch functionality from Embedded to Enterprise. The HP SAN Switch value line products allows the capability to apply the complete SAN Switch functionality to an affordable entry level SAN deployment and then to grow that deployment to the largest SAN fabric solutions supported by HP
Environmental information
Operating temperature range 0° to 40° C
Operating altitude 3,000 m
Compliance information
UNSPC code 43222612
Physical information
Weight 3.99 kg
Dimensions (W x D x H) 42.86 x 30.73 x 4.29 cm