HP StorageWorks 1/8 Ultrium 448 Tape Autoloader AF203A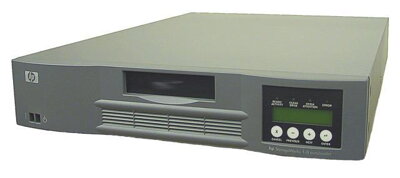 Hodnotenie produktu: 4/5 (1x)
Vaše hodnotenie:
Externá SCSI LVD/SE pásková mechanika HP StorageWorks 1/8 Ultrium 448 Tape Autoloader AF203A, Spare No.: 391205-002
108 € s DPH
90 €
108 € s DPH Zľava 0 €
Dostupnosť: Skladom
AF203A - HP 1/8 Ultrium 448 Tape Autoloader
Summary
Designed for basic data protection, the HP StorageWorks 1/8 Tape Autoloader provides cost-effective, easy-to-install unattended backup. In a rack or on a desktop, it provides up to 3.2 TB of native capacity in a compact 2U form factor.
Unattended backup that frees up your IT resources and minimises the risk of human error
Automated backup that is easy to install and to use - HP StorageWorks tape autoloaders are an ideal backup solution for small to medium companies with limited IT support or remote sites of larger companies.
Related products
Key Features
Affordable: Automates the backup process at a price comparable to standalone drives
High-capacity: Stores up to 3.2 TB (native) of data with Ultrium 960 technology
Reliable: Provides consistent backup and automatically changes tapes
Rack-optimized: Occupies a minimum amount of rack space (2U)
Efficient: Allows IT resources performing manual backups to work on other critical tasks
Compact: Holds eight cartridges and one drive in 2U of space.
Evolutionary: Provides an easy transition from standalone tape into automated tape backup.
Compatible: Works with leading servers, operating systems and backup software
Investment Protection: Ultrium 960 version backward read compatible with media written on by Ultrium 230, Ultrium 232, Ultrium 448 and Ultrium 460 drives; backward read/write compatible with media written on by Ultrium 460 and Ultrium 448 drives
Diverse: Supports Ultrium 960, Ultrium 448 and Ultrium 232 drive technologies
Technical Features
Affordable entry-level automation solution: competitively priced for extremely price sensitive customers; growth pattern from standalone drive use to first tape automation product
High-capacity in a 2U form factor: enough data cartridges for a week's worth of backup; ideal for customers who have outgrown the capacity of a standalone drive
Reliable tape automation product: automatically changes tapes without user intervention; device broadly tested to work with other hardware and software in the total solution
Technical Specifications
Configuration
Mount type
Tabletop, Rack-Mount
Connectivity
I/O module connector
(2) 68-pin HD
I/O module connector
(2) 68-pin HD
Ports
I/O port
Ultrium 960, Ultrium 448 and Ultrium 232: Ultra3 SCSI LVD/SE
External I/O ports
Ultra3 SCSI LVD/SE
Storage
Seek time
Not Applicable
Seek time
Not Applicable
Transfer rate in sustain mode
24 MB/s (native), 48 MB/s (compressed)
Performance, burst transfer rate
1/8 Ultrium 960: 80 MB/s (native), 160 MB/s (compressed); 1/8 Ultrium 448: 24 MB/s (native), 48 MB/s (compressed); 1/8 Ultrium 232: 16 MB/s (native), 32 MB/s (compressed)
SCSI interface
1/8 Ultrium 960: Ultra320 SCSI LVD/SE; 1/8 Ultrium 448: Ultra160 SCSI LVD/SE; 1/8 Ultrium 232: Ultra160 SCSI LVD/SE
SCSI interface
SCSI Ultra3 (68-pin HD)
Compressed capacity
3.2 TB
Compressed capacity
1/8 Ultrium 960: 6.4 TB; 1/8 Ultrium 448: 3.2 TB; 1/8 Ultrium 232: 1.6 TB
Native capacity
1.6 TB
Native capacity
1/8 Ultrium 960: 3.2 TB; 1/8 Ultrium 448: 1.6 TB; 1/8 Ultrium 232: 800 GB
Drive type
Ultrium 448
Drive type
Ultrium 960, Ultrium 448, Ultrium 232
MTBF range
Not Applicable
Recording technology
Linear Serpentine
Recording technology
Linear Serpentine
System
Chassis
2U rack mount or desktop
Chassis type
2U rack mount or desktop
One button disaster recovery
No
One button disaster recovery
No
Features 01
Affordable entry-level automation solution: competitively priced for extremely price sensitive customers; growth pattern from standalone drive use to first tape automation product
High-capacity in a 2U form factor: enough data cartridges for a week's worth of backup; ideal for customers who have outgrown the capacity of a standalone drive
Reliable tape automation product: automatically changes tapes without user intervention; device broadly tested to work with other hardware and software in the total solution


Environmental information
Operating humidity range 20 to 80% RH
Operating temperature range 10 to 35° C
Operating temperature range 10 to 35° C
Compliance information
UNSPC code 43201903
Physical information
Weight 10.0 kg
Dimensions (W x D x H) 41.9 x 61.7 x 8.5 cm
Dimensions, metric 41.9 x 61.7 x 8.5 cm